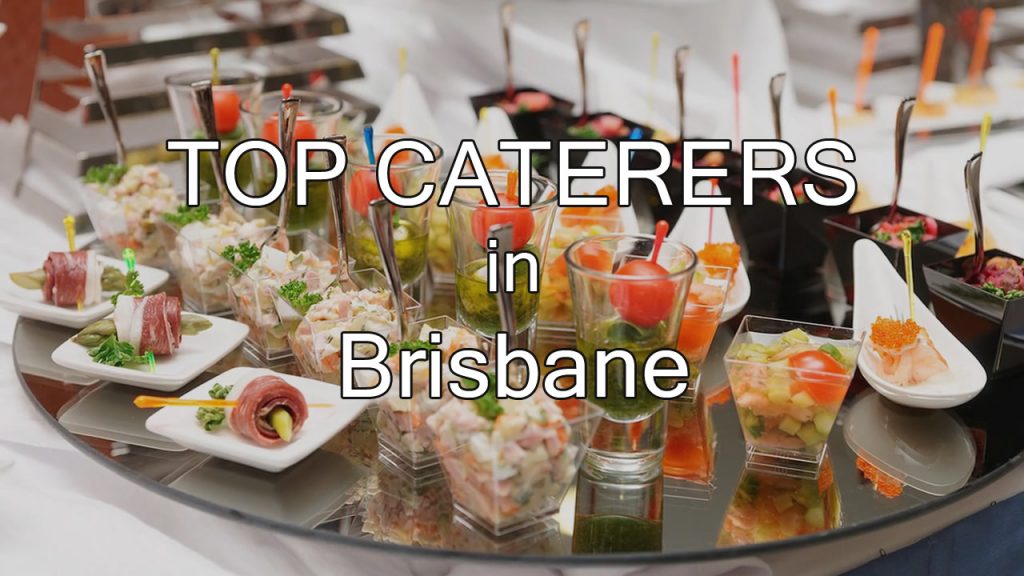 When it comes to quality caterers Brisbane offers you a lot of catering services for any occasion. Each of them has its own specialisation and expertise. All you have to do is to be open with your ideas. Here's a list you can use:
Five Sisters Café & Bar
141 Melbourne St, South Brisbane QLD 4101,
(07) 3846 5904
fivesisterscafe.com.au
Experience the taste of Greece with its sweet, savoury, traditional as well as contemporary flavours found at Five Sisters Café & Bar. Their function and catering offers the right amount of variety with their indoor and outdoor accommodation available for guest and visitors. Five Sisters Café & Bar is perfect for breakfast and lunch as well as snacks.
Sage On Ann
140 Ann St, Brisbane QLD 4000,
(07) 3221 4471
sageonann.com.au
Diverse catering options provided to guests and customers upon their visit at Sage on Ann. If you just want to have reservations for some light snacks or a cup of tea, you can choose to do so at Sage on Ann. They have after hour functions as well as morning & afternoon tea with a selection of fruit, cheese, sweets platter and different sandwiches for everyone to enjoy.
Cuisine on Cue
80 George St, Brisbane QLD 4000,
(07) 3210 2281
cuisineoncue.com
Find the best caterers on Brisbane to provide you with quality services and functions for you and your friends. You can find such place at Cuisine on Cue which is a recognized Gold License Caterer which is the highest qualification that can be achieved in the catering industry. Cuisine on Cue provides catering services for private and corporate functions as well as other important events.
Lettuce Eat Cafe & Catering
390 Montague Rd, West End QLD 4101,
(07) 3844 1909
lettuceeat.com.au
If you're leaning towards a healthier cuisine which you and your guests can enjoy, Lettuce Eat Café & Catering is happy to oblige such demands. Enjoy a healthy selection of fresh tossed salads, steaming side dishes and their east meets west hot meals menu which consists of different flavors from around the world.
Spice of India
3/385 Gympie Rd, Brisbane QLD 4031,
(07) 3359 0369
spiceofindia.com.au
Surprise your guest with authentic Indian inspired cuisine offered through your catering functions available at the Spice of India. Catering packages give their customers plenty of options to choose from depending on your budget. Their eco-friendly catering is also safe and handy as they use energy efficient ways to cook and serve your food.
Mondo
166 Hardgrave Rd, West End QLD 4101,
(07) 3844 1132
mondo-organics.com.au
Vegan lovers rejoice as catering options is now available which you and your friends can enjoy available at Mondo. Mondo is known for its elegant organic dining cuisine using only the highest produce available. Their slogan: "Eat Mondo. Feel Good" stays true to its word with their gluten free and organic ingredients.
Standing Room Only Catering
Ashgrove QLD,
0433 822 280
standingroomonlycatering.com.au
Don't let the name fool you. Standing Room Only Catering is one of Brisbane's top providers when talking private functions for special occasions and events. Stand Room Only Catering is a 5 star party catering company which is the highest rating a catering company can receive. Their personalized catering service is great for wedding reception, corporate catering or cocktail parties.
Aura Bar
131 Barry Parade, Brisbane QLD 4006,
(07) 3831 6661
aurabar.com.au
Catering options available to customers at any time of the day found at Aura Bar. Looking for some light snacks? Sandwich platters are available at Aura Bar with options that allow their clients to design and choose their own fillings for a more distinct and authentic catering experience.
Queensland Spit Roast
1/623 Toohey Rd, Salisbury QLD 4107,
1800 306 370
queenslandspitroast.com.au
Barbeques and other roast dishes are available for your catering options at Queensland Spit Roast. One is free to choose from beef, lamb or pork with their roasts along with fresh salad and vegetable selections to complete the overall dining experience. Fully trained personnel can also be acquired for serving the food as well as during clean ups.
The London Club
38 Vernon Terrace, Newstead QLD 4006,
(07) 3252 8188
thelondonclub.com.au
An all around restaurant, bar & cocktail party venue available for your private functions and events found at the London Club. Their cocktail-style events is great and it is filled to the brim with facilities and amenities which your guests can enjoy such as AV equipment, built-in lounge, bartenders and wait staff and a lot more.
Dux Gutz Catering
570 Queen St, Brisbane QLD 4000,
0402 479 404
duxgutzcatering.com.au
Cocktail finger foods galore can be found at Dux Gutz Catering. Entice your guests and keep them busy with the event by providing a huge variety of cocktail finger food as well as cocktail noodle boxes and dips before heading on to the main course with their gourmet platters or buffet packages.
Willes Fine Foods
2/153 Oxford St, Bulimba QLD 4171,
(07) 3395 6588
gourmetworkshop.com.au
Huge buffet selections available on your private parties and functions found at Willes Fine Foods. One of the caterers Brisbane people most often refer to each other on social media. Willes Fine Foods provides their guests with a selection of two hot dishes plus one vegetarian selection as well as salads and bread. Specialty sandwiches are also available for orders.
Brisbane Quality Catering
9/127 Bulimba St, Bulimba QLD 4171,
(07) 3899 2161
brisbanequalitycatering.com.au
You can find a reliable and consistent catering services provider available on a fly at Brisbane Quality Catering. Whether on is holding a private party, a corporate event or other special occasions, you can find their services to be quite convenient since reservations can be done at the comfort of one's home with their easy online ordering.
Roam'In Pizza
1 Stradbroke Street, Redland Bay QLD 4165,
(07) 3829 1410
roaminpizza.net.au
Catering on the go is made possible with Roam'In Pizza. The name describes their services very well as they provide mobile catering for their customers and guests. Bring the party at your home while enjoying the ambience of a wood fired pizza brought to your homes. Pizza is great for parties and having them served fresh and straight from the over is even better.
West End Park Café
305 Montague Rd, West End QLD 4101,
(07) 3844 2255
westendparkcafe.com.au
Find group lunches and catering functions provided to you at West End Park Café. Breakfast and lunch options are available for bookings and reservations and customers will find a great variety of dishes from mains to desserts. Their hot savouries and platters as well as homemade gourmet quiches is something that can make your event unique and distinct.
The Ship Inn
Griffiths University South Bank Campus (S06),
Cnr Stanley & Sidon Streets, South Brisbane QLD 4101,
(07) 3844 8000
theshipinn.com.au
Show off that authentic vibe and feel of a Sailor's pub modernised for a more traditional look. Their function rooms are vast and huge allowing up to 200 guests for cocktail style functions. Customers can choose from two to three courses of meal depending on their budget allocation or a food court to have them served buffet style.
Loaves & Fishes Catering
108a Norman Street, Woolloongabba QLD 4102,
(07) 3891 9096
loavesandfishes.com.au
The fresh and finest produce along with an innovative cuisine prepared to you on your private event at Loaves & Fishes Catering. As the season changes, so does their catering menu. This makes their dishes become timely and relevant to their clients taste as well as preference. Find a variety of cocktail, barbecue, and buffet menu at their establishment.
All Things Nice
2/13 Kuring-Gai Ave, Tarragindi QLD 4121
(07) 3397 8590
allthingsnicecatering.com.au
Fine quality and fresh foods for your catering services are available at All Things Nice. As their name implies, All Things Nice prepare and cook their dishes by hand ensuring that every meal they serve are fresh. They refrain from using common additives as well as special sauces which is great for health and fitness minded individuals.
DannyBoys Sandwich Bar
88 Musk Ave, Kelvin Grove QLD 4059,
(07) 3839 1101
dannyboys.com.au
Snack catering is fairly popular especially if one just wants to hold a short event. An afternoon snack may be the best course of action and you can find such options available to you at DannyBoys Sandwich Bar. For catering, they provide a variety of sandwich as well as soup platters for up to 9 to 12 people.
Garnishes Catering
18 Edmondstone Rd, Brisbane QLD 4006,
(07) 3852 6644
garnishescatering.com.au
Garnishes Catering is one of the few Gold License caterers Brisbane has been blessed with. This award was gained through their continuous efforts to serve exceptional food as well as reliable and outstanding services to their customers. Whether big or small, Garnishes Catering is happy to serve their client's request with regards to catering services.
Caterers Brisbane: Best Catering Services in Queensland's Biggest City
Yep it comes to quality caterers Brisbane offers you a lot of catering services for any occasion. Each of them has its own specialisation and expertise. All you have to do is to be open with your ideas – and your wallet.