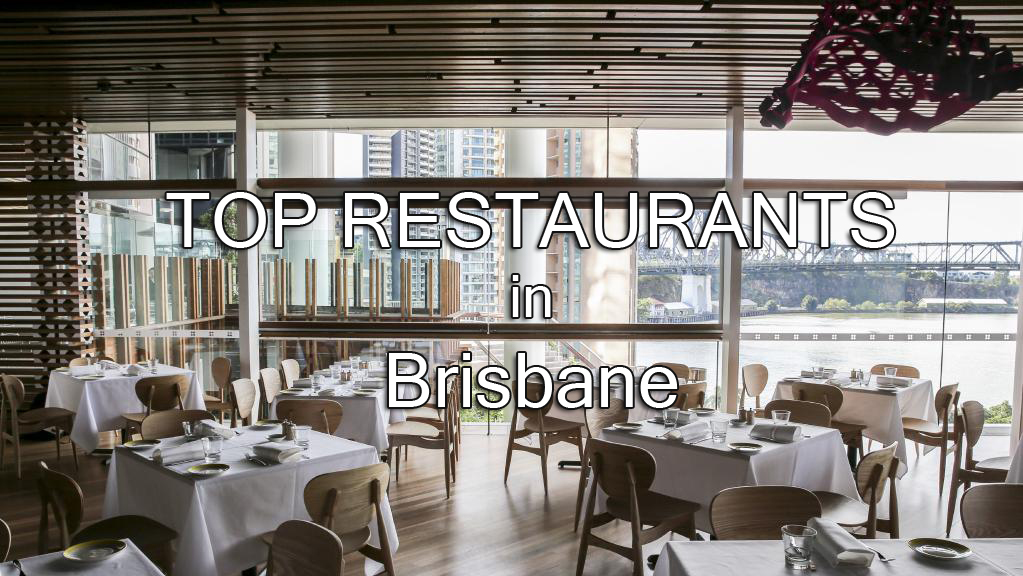 Brisbane offers you exquisite taste of delicacies and cuisine that can only be found within it. Here's a list on where you can go:
Azafrán Restaurant
97 Ekibin Rd E, Annerley QLD 4103,
+61 7 3892 1776
www.azafran.com.au
Hold wonderful celebration or events at Azafran Restaurant. The establishment is able to hold up to 65 guests all at once while also available for smaller groups of friends. Choose between indoor or outdoor private dining rooms. Their menu changes as the seasons goes to make sure that the best available produce is used.
Dell'Ugo Southbank
182 Grey St, South Brisbane QLD 4101,
+61 7 3844 0500
www.dellugosouthbank.com.au
Find authentic Italian inspired cuisine that is specialized in seafood, meat and homemade pasta available at Dell'Ugo Southbank Restaurant. Visitors and guests will find many imported Italian produce to give off that distinct Italian flavor with their dishes. Their seasonal A la Carte Menu makes it more endearing to visit their restaurant on a regular basis.
The Roman Empire Restaurant
Shop 1/742 Creek Rd, Carindale QLD 4152,
+61 7 3420 0969
theromanempire.com.au
The Roman Empire provides fresh Italian homemade cooking to their customers and visitors on a day to day basis. Season menus as well as traditional Italian dishes are available for orders. Since they work via homemade cooking, food as well as sauces are prepared every day ensuring freshness and quality.
C'est Bon
609 Stanley Street, Woolloongabba QLD 4102,
+61 7 3891 2008
Enjoy the taste and ambience of France with French inspired cuisine served regularly at C'est Bon. The restaurant is able to hold a considerable amount of seating along with air conditioning and also private functions. They are available from lunch to dinner with different menu course to choose from.
Restaurant Rapide
1/4 Martha St, Camp Hill QLD 4152,
+61 7 3843 5755
www.rapiderestaurant.com
Experience fine dining with a fantastic location and setting to boot found at Restaurant Rapide. The dishes served at Rapide Restaurant are both visually appealing to match their exquisite and fine flavors. Breads and starters are a great way to start your meal while you wait for the main dishes, sides and desserts to be served.
Spizzico
721 Main St, Kangaroo Point QLD 4169,
+61 7 3391 7077
www.spizzico.com.au
Pizzas, pastas and risottos, as well as a variety of traditional Italian food await customers and guests upon their visit at Spizzico. The restaurant also functions as a fully licensed bar making it possible for visitors to order a variety of cocktail drinks and wines along the way. Dine and relax with a cold relaxing drink along with a diverse range of Italian dishes at Spizzico.
Mu'ooz Restaurant & Catering
54 Mollison St, West End QLD 4101,
+61 7 3844 8378
www.muooz.com.au
A distinct and authentic taste of North-East African cuisine found at Mu'ooz Restaurant & Catering. Their dishes aren't the only ones that are inspired by North-East African cuisine since the overall ambience and environment of the restaurant also provides that foreign feel. Imported African ingredients as well are provided with every meal to ensure that distinct taste.
Black Forest German Restaurant
196 Gladstone Rd, Highgate Hill QLD 4101,
+61 7 3217 2180
www.blackforestrestaurant.org
Experience that German taste and feel with regards to the food and environment available at Black Forest German Restaurant. From the sights to the sounds one can truly feel like they are transported in Germany with authentic dishes served to complete the overall dining experience. Live music is provided on a several occasion to liven things up for their guests.
Thai Jasmine Restaurant
875 Old Cleveland Rd, Carina QLD 4152,
+61 7 3398 3193
www.thaijasminerestaurant.com.au
Thai inspired cuisine as well as other Asian food awaits customers upon their visit at Thai Jasmine Restaurant. The restaurant is cool and comfy with lush greens decorated all over the establishment to provide clean and fresh air to their guest. With its Thai dishes, you can expect at dash of different spices with your orders.
Lady Marmalade Café
269 Logan Rd, Greenslopes QLD 4120,
+61 7 3324 2480
ladymarmaladecafe.com
Make breakfast an important part of your day by having Brisbane's best breakfast dishes served at Lady Marmalade Café. Their all day breakfast menu is filled to the brim with different sandwiches to get your through the day. Try out their turkey sandwich, wagyu beef, mushroom brioche or haloumi sandwich today.
Golden Buddha Thai Restaurant
Crn D'Arcy & The Corso, Seven Hills QLD 4170,
+61 7 3902 0005
www.goldenbuddha.com.au
A mix of seafood, meat, vegetables as well as noodles & rice dishes awaits customers at Golden Buddha Thai Restaurant. Satisfy your cravings for an authentic and distinct flavor by trying out Thai cuisine today. The overall experience isn't complete without you trying out their specialty curries available at their restaurant.
A Night in India Restaurant
58 High St., Toowong QLD 4066,
+61 7 3217 7955
www.anightinindia.com
Experience the authentic feel of India with the variety of dishes served at A Night in India. The restaurant is known to be one of Brisbane's best, largest and highly reputable Indian restaurants and that is saying a lot. Gluten free options are available as well as vegan and nut free choices for your orders.
Made in Africa Ethiopian Restaurant
197-201 Beaudesert Road, Moorooka QLD 4105,
+61 7 3848 6759
www.ethiopianrestaurant.com.au
Enjoy the flavors of Ethiopian cuisine right at the heart of Brisbane found at Made in Africa. The overall ambience and feel of the restaurant also somewhat takes to you to Africa with their Ethiopian Art and artifacts adorning their walls.
Mount Gravatt Hotel
1315 Logan Rd, Mt Gravatt QLD 4122,
+61 7 3349 2276
http://www.mountgravatthotel.com.au/
Fun activities and events await customers and guest at Mount Gravatt Hotel. Those who have kids with them will definitely enjoy the place as the restaurant provides kids areas with indoor and outdoor playgrounds as well as function spaces for corporate and social events.
Elio's
119 Winstanley St, Carina Heights QLD 4152,
+61 7 3843 1333
www.elios.com.au
Elio's is known for their Italian Pizzas, Pastas as well as their Calzone style Garlic bread though that is only scratching its surface. The restaurant serves starters and mains with desserts & drinks along the way. Elio's is great for dine in with friends and loved ones.
Neo Pizza Pasta Gelati
36 Gladstone Rd, Highgate Hill QLD 4101,
+61 7 3217 2515
piccolopizza.com.au
Find a variety of pizzas, pastas and salads available at Neo Pizza Pasta Gelati. There's a lot of fun to be had with their pizzas as these are quite diverse and varied. They have pizzas representing different countries that you may want to try out such as Nepal pizza, Honolulu pizza, Mexico city, Paris and more.
Thai Rose Cafe & Bar
2 Logan Rd, Woolloongabba QLD 4102,
+61 7 3217 3588
www.thairosecafebar.com.au
Enjoy Thai inspired cuisines served individually or by group at Thai Rose Café & Bar. Their specials include a Phuket package which is a serving of 2 people. Included in the package is are Vegetarian Spring Roll, Chicken with Cashew Nut, Red Curry Beef, Jasmine Rice. They also provide family packages for 3 to 4 persons adding great value to your money.
Loving Hut
2/1420 Logan Rd, Mt Gravatt QLD 4122,
+61 7 3219 4118
lovinghutbrisbane.com.au
A healthy selection of dishes for served fresh at Loving Hut. The restaurant welcomes vegan lovers with their healthy and environmental vegan cuisine. Gluten free dishes are also a wonderful alternative which customers can ask freely from them.
Grill'd South Bank
167 Grey St, South Brisbane QLD 4101,
+61 7 3844 4700
Gluten free, dairy free, grain free isn't something you can associate with burgers found today. With that said. Grill'd is able to combine these options in their burgers. Their buns itself can either be gluten or low carb and their burgers are filled with salad, relish & herbed mayo. Try out their veggie burgers today.
Sultans Kitchen
380 Cavendish Rd, Coorparoo QLD 4151,
+61 7 3397 4566
A healthy serving of authentic Indian cuisine available on a day to day basis found at Sultan's kitchen. Feel right straight at home with their hot & spicy dishes for that extra kick to spice up your life. Their menu is well detailed to help those who want to avoid spicy foods but still wish to enjoy a good serving of Indian cuisine.